2014 Kids
Congratulations to the Axthelm family on their purchase of Lacie & Claire!
Congratulations to the Benson family on their purchase of Molly!

(l to r) Lacie, Molly, Claire
Showing at the MDGA/TMGR ISDGA Classic Show in Boise, ID at 12 weeks old.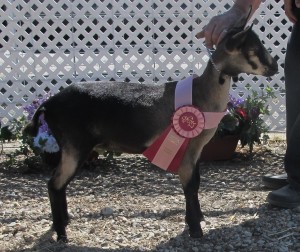 Claire winning 1st in her class and then going on to win
Reserve Grand Champion Doe over aged does!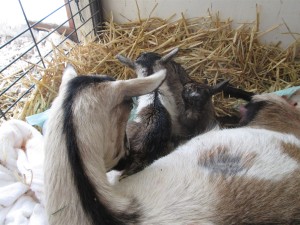 Poppy had twin doelings at 1:40 PM on February 9, 2014!
Doeling 1, Emma, (chamoisee) weighed 7.31#
Doeling 2, Faith, (two tone broken chamoisee) weighed 6.81#.
F1 mini Alpine doelings
(78.25% Alpine/21.75% Nigerian Dwarf).
Congratulations Mary M. on your purchase of Emma!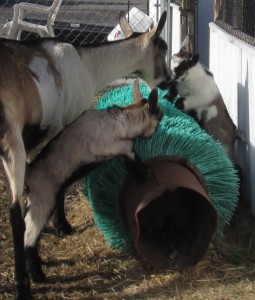 Poppy's girls, Emma and Faith, had their first outdoor adventure at 3 days old.  They discovered a new play toy – the brush roller.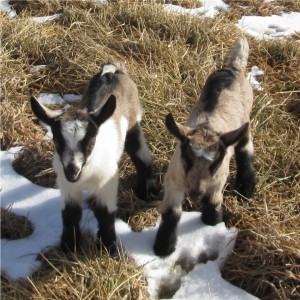 Faith (left) and Emma (right) also went out in the hay field for a romp and discovered snow at 3 days old.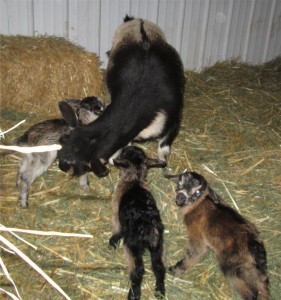 Joules' had 3 doelings on February 13, 2014 at 6:10 PM!
Doeling 1, Lacie (chamoisee),weighed 5.11#
Doeling 2, Molly, (chamoisee)  weighed 4.36#
Doeling 3, Claire, (cou clair) weighed 4.14#.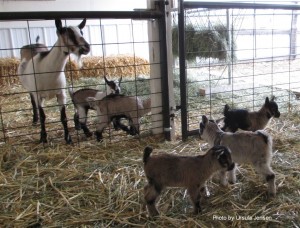 Poppy and her 6 day old doelings looking at Joules' 2 day old doelings.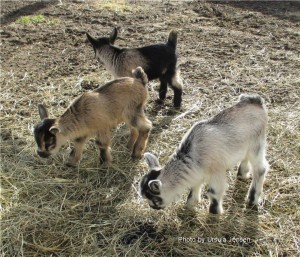 Joules' doelings at 3 days old on their first day outdoors.  Claire (in the back), Molly (center), Lacie (front).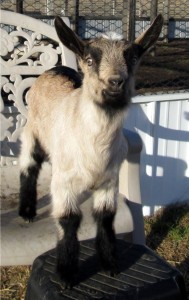 Emma at 3 weeks old.  She wants to know what I'm doing!  She is a very long and correct doeling.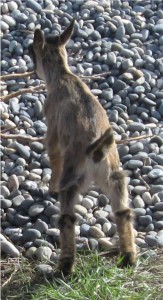 Joules' doeling, Molly, at 18 days old.  She is a very correct doeling with a gorgeous hind end.