The average amount of snowfall we receive in February is 2.2″.  We've definitely surpassed that!
This snow is dry and doesn't contain a huge amount of moisture but because it has blanketed every square inch of the fields what moisture and nutrients it does contain will help the fields when it melts.  The blanket of snow also protects the plants from the cold temperatures.
We feed the Canada geese whole corn every year.  It depends upon the weather how much and for how long.  It's fun to have them right out our picture window not more than 50 yards from our fence.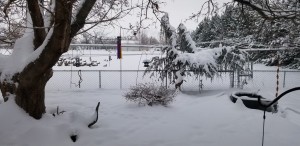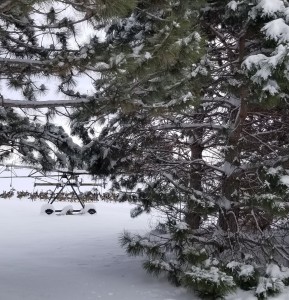 Of course, you can't have snow without snow fights!  Look at that devilish grin Jasper has as he heads toward Granny to hit her with a chunk of snow!  The piles of snow from clearing the farm also make great mountains to climb!