Blog
September 29th, 2020
If you're seeing floating masses of spider webs you're seeing an annual phenomenon!
I looked back in the blog postings to see when the spiders flew last year.  I posted about it on October 6th.  They are flying 1 week earlier this year.  Here's a reminder of why spiders fly from that post.
There's an old saying that in the fall, when the spiders fly, is the time to plant your fields.
Have you ever seen spider webs floating through the sky, hanging from your car antenna or covering the ground in the fall?
Ballooning, sometimes called kiting, is a process by which spiders, and some other small invertebrates, move through the air by releasing one or more gossamer threads to catch the wind, causing them to become airborne at the mercy of air currents and potentially electric currents.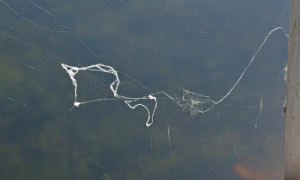 ---