Cherry Butte Aurora "Joules"
Cherry Butte Aurora "Joules"
F1 Mini Alpine (25% Alpine / 75% Nigerian Dwarf)
DOB: February 13, 2012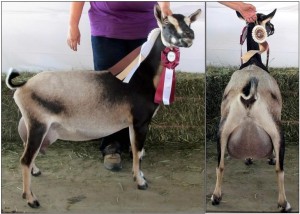 (Joules was nursing triplets when this show photo was taken)
Sire: Odeon Sebastian (polled Nigerian Dwarf)
Dam: Cherry Butte Cupid's Comet (50% Alpine)
Joules is a stunning doe with a personality to match.  She is very dairy, has a level topline, smooth blending in the front end with a graceful neck and a nice dairy wedge when viewed from above. Joules has a level rump from hips to pins with good width.
Joules is now retired and living a life of leisure on our farm.
Show Record:
2015 shown 1 time
MDGA/TMGR Dual Sanctioned Show
Wine Country Classic Kennewick, WA
3 x 1st, 3 x GCH, 1 x BDIS
Earned her 2nd MDGA leg and her 1st TMGR leg.
2014 shown 3 times
MDGA/TMGR Dual Sanctioned Show at ISDGA Show Boise, ID
3 x 2nd
2013 Shown 2 times
MDGA Summer 2013 "V" Show
2 x 1st, 1 x GCH, 1 x RGCH
2012 shown 5 times
MDGA Show at ISDGA Show Boise, ID
1 x 1st, 1 x CH, 2 x BOB, 2 x Jr. BDIS
Earned her "dry leg"
MDGA Wine Country Classic Kennewick, WA
1 x 1st, 1 x CH, 1 x BOB, 1 x Jr. BDIS