Our Farm
Game Farm Hay is a second generation family farm.  We live where we work and take pride in the tradition of producing premium grade grass hay for our animals and yours.
We are located in the Columbia Basin region of south central Washington State near the confluence of the Columbia and Snake Rivers.  Our semi-arid climate receives an average of 7"-10" of rain annually.  Crop irrigation and water conservation are extremely important.  We enjoy an average of 300 days of sunshine and a 180 frost free days growing season!
Our climate, irrigation and proper stewardship of the land help us produce the best grass hay in the Columbia Basin!
Wildlife on the farm!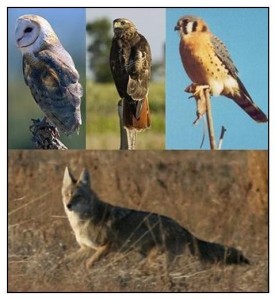 We enjoy sharing our land with wildlife and farm areas specifically for them so they will have the habitat they need to survive.
The owls, red-tailed hawks, kestrel falcons and coyotes help control the mice, gophers and voles in the hay fields.
We plant food plots for the many species of birds found on our farm and for our honey bees.
The gamebirds and songbirds enjoy eating the sunflowers, corn and other grains we plant for them.  We enjoy listening to their songs and watching them raise their broods.
Many of the plants are also attractive to honey bees.  We grow honey bee food plots and have bee hives for honey.
---