The wind storm that passed through yesterday afternoon and through the night was a doozy!  Gusts reached 63 mph on our farm!  It's a good thing our 12th man flag wasn't flying yet.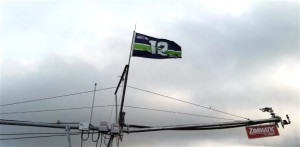 All but 3 of our pivots are irrigated by well so we've had irrigation on for the past week.  The established fields have no trouble with wind but the 130 acres we just seeded 6 days ago is bare soil.  We ran the irrigation before and during the wind storm to protect the seed and keep blowing dust to a minimum.
CID irrigation is scheduled to be turned on mid April for the 3 fields not under well irrigation.