We've reached the dog days of summer.  Hot weather, sunshine, happy hay fields.  We spend the days checking pivots to make sure everything is running well and checking the irrigation water pressure to make sure it's running enough volume to give the fields the water they need.
Our dog, Skippy, keeps a watchful eye on the landscape as we drive around the fields.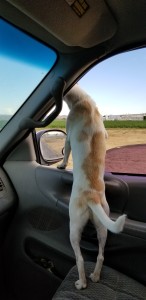 When he's not "working" he loves getting tummy rubs from the grandkids!